Welcome to The Friday Flea. The ultimate marketplace for awesome deals. We offer a FREE venue for small business to sell their destash, sale, clearance supplies and goods without getting lost in the cornflakes of big commercial venues. We are not a junky flea store, but rather a collective of quality desirable merchandise for the artist, crafter or collector. Please read our links above to find out more.
Sellers: Simply link up to 4 items each week from your selling venue offering great prices. Please check TheRules page for what is and is not allowed here. Please grab the badge and post on your blog or website.
Buyers: You will purchase directly from the sellers link
Let's have fun!
A new link list is published every Friday and you can link in at any time during the week
The Rules
1.. The link up is simple–it must be to a selling venue (website, etsy/ebay/artfire/ecrater etc.) where the customer has a buy now option button. If you link back to a blog, it must have a paypal buy it button. Each link is reviewed by our admins and will be removed if there is no buy option.
Our aim is not to be a junky flea store, but rather a collective of quality desirable merchandise for the artist, crafter or collector.
2. If you are going to sell here, we request you add our badge to a blog or website. We understand that you cannot do this on Etsy/Ebay or other such type venues, but we do have an image (below) that you can add to your listing, as you are still linking back to etsy/ebay for the completed sale. The badges/images bring traffic to our site and increases your chances of selling your items.(tell your friends about us)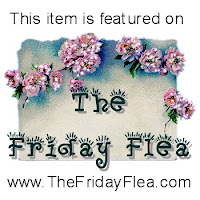 3. Items allowed..
*YES all craft and art supplies new or vintage
*YES vintage, antique and collectible items (see exceptions below)
*YES fabrics, sewing, linens new or vintage
*YES vintage clothing, shoes and accessories (see exceptions below)
*YES vintage books, audio, video, magazines, paper. New DIY and instructional are accepted
*YES vintage or handmade jewelry
*YES handmade items as long as they do not fall into any of the items not allowed below
*YES handmade clothing
4.. Items not allowed…
*NO new jewelry unless it is handmade
*NO new clothing or shoes unless it is handmade
*NO large appliances
*NO automotive or automotive parts
*NO Violent, Adult or pornographic materials.
*NO Political or religious agenda of any form
*NO new Books, media, audio or video unless it is DIY, instructional or vintage
Each link is reviewed by our admins and will be removed if there are any items deemed not appropriate for this venue
5. You can list up to 4 items per week. A new list goes up each Friday. Four lists (1 month) will be active at all times, so there is no need to list the same items each week.
6. The Friday Flea assumes no responsibility of transactions made between parties. It is up to the buyer and seller to resolve any disputes.
Questions???
Please post a comment here and you will receive an answer within 48hrs
Share our badge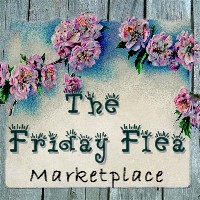 Advertise on The Friday Flea Click above to purchase your ad. We will contact you after payment for your banner and link.
Spread the word! Like us on Facebook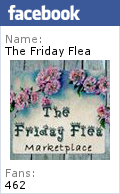 Cottage Friends Emporium